Are you a track manager, race director or event coordinator looking for an exhibition act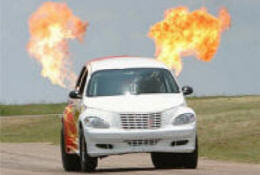 for your venue/race?
Do you want a high quality, professional & safe exhibition act with proven marketing draw to raise your attendance?
Do you want the security of a licensed, certified, and experienced driver & exhibition vehicle with an established safety record?
Do you want to entertain fans of all ages & backgrounds, and have them cheering for more?
Do you want the excitement of an incredible fire show, thundering engine & 1/4 mile wheelies at 100+ miles per hour?
Do you want to count on intensive fan interaction, an engaging pit display, & a gracious, presentable crew?
Are you a business owner wanting a unique & high profile display to attract attention to your business?
Consider bringing in
NitroMike Kunz
and the
Walking TALL PT Cruiser wheelstander!
Bringing wheelstanding action to fans is our passion!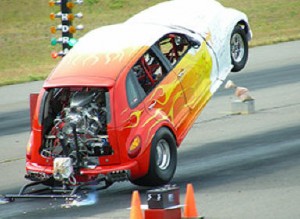 We approach each & every performance with a goal of presenting the very best entertainment to the fans in the safest & most exciting way. Our show is a thrilling and interactive exhibition experience that always gets repeat requests.
We're also a creative & novelty feature to bring interest to static displays, parades & trade shows. Just think of the possibilities!
We're booking now – get your request in early to ensure our availability. Preference is given to our earliest requests for each season. We'd love to come to your home town and add to the success of your event! Just give us a call or drop an email.
Accepting worldwide bookings